At the 46thedition of the legendary Nürburgring 24h Race, the VLN teams once again played an important role in scoring class wins. Not less than 75 percent of all these victories went to regular starters in the popular grassroots series VLN. Black Falcon, Pixum Team Adrenalin, Securtal Sorg Rennsport, Manthey or rent2Drive-Familia-racing left their marks on this classical long-distance race.
Apart from their second, third and fifth positions in the overall classification, Black Falcon moreover took two class wins. An impressive team result! In class SP 10, Carlos Gomez, Stefan Karg, Fidel Leib and Kim-Luis Schramm achieved the worldwide first victory of a Mercedes-AMG GT4 at a 24h race. Alexander Böhm, Stephan Köhler, Axel König and Norbert Schneider won the class V6 with their Porsche 911 and thus secured for their team the fourth V6 class win in a row at the Nürburgring 24h Race.
The success of Manthey-Racing at the 24h Racewith Richard Lietz, Patrick Pilet, Frédéric Makowiecki and Nick Tandy in a Porsche 911 GT3 R went along with a win of their class SP9. Final driver Makowiecki secured the sixth overall victory for the team from Meuspath near the Nürburgring after the five previous ones between 2006 and 2009 as well as in 2011. "That was a really tough, but always fair fight in the lead and I am absolutely happy with this victory. We had a bad start of course with our tyre damage, but then we improved lap by lap. The set-up of the car was perfect both in dry and in wet conditions so we were able to push hard until the end", said Makowiecki. Remarkable was also the first place in the SP9 Pro/AM classification taken by Car Collection Motorsport with drivers Stefan Aust, Christian Bollrath, Ronnie Saurenmann and Peter Schmidt.
Also delighted about their two class wins was Securtal Sorg Rennsport. Both in the Cup 5 class and in class V4, the team was the best of the best. Mühlner Motorsport managed to bring home a double win in class Cup 3. The wins for the Belgian racing team were taken by Michael Rebhan, Timo Mölig, Tobias Müller and double starter Moritz Kranz who was also entered in the second-placed car of the team, together with Jürgen and Sebastian von Gartzen as well as Marcel Hoppe. "This was my first 24h race in two cars. So I really felt a little bit of stress. The night stint accompanied by the thunderstorm was very demanding. Finally, no one of the drivers in either car made any mistake. It was really a perfect race", said Kranz.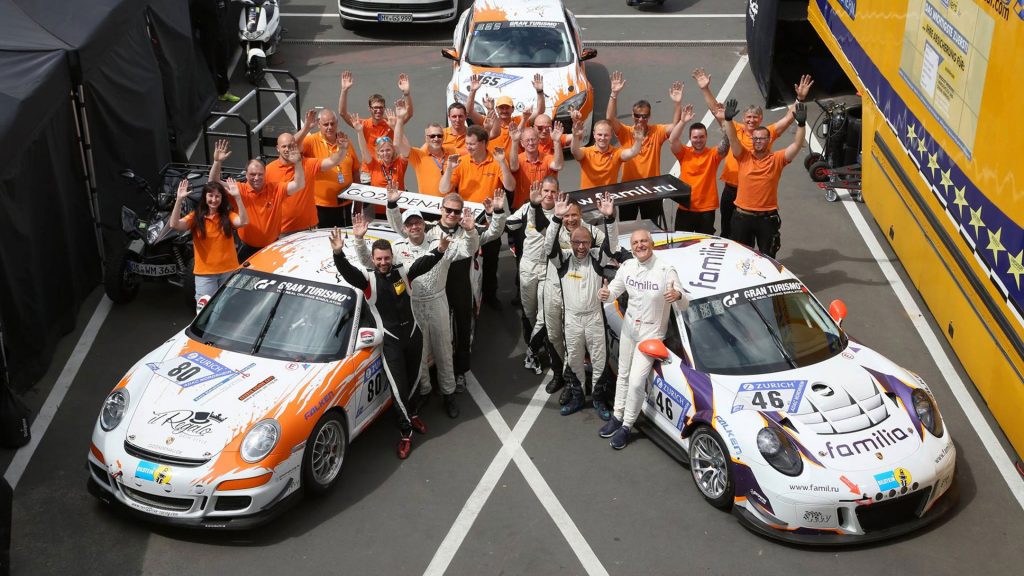 Max Friedhoff, Johannes Stuck, Ferdinand Stuck and Volker Strycek took the lead in the Cup-X class and achieved moreover a very good 26thoverall place with the KTM X-BOW GT4. "It was crazy. I had no idea how Ferdi was able to drive that fast before me. I didn't see anything, it was an absolutely blind flight. Sometimes, I had doubts whether I was still on the track when entering a corner", said Johannes Stuck and Ring legend Volker Straycek added: "Visibility was really really poor, there was aquaplaning all the time and if that were not enough yet, we had a completely misted windscreen."
In the class of alternative fuels (AT), the Team Care for Climate scored a double win. Smudo and Thomas von Löwis of Menar were the winners with their team in a Porsche 911 GT3 Cup ahead of Thomas Kiefer and his team mate in a Porsche Cayman. rent2Drive-Familia-racing, too, received not less than two winners' trophies. There was no way to beat the team of David and Diana Ackermann in classes SP8 and in the V2T. Dörr Motorsport started in SP-Y with two further developed Lamborghini Huracán Super Trofeo Evo and an improved aerodynamic. "We had a little bit of trouble with some technical problems in our car and dropped behind as a consequence. It is anyhow already a big success to finish a 24h Race", said class winner Manual Lauck.
The more than convincing result of the VLN teams and drivers was topped off by the class wins of Proom Racing (SP6), the MSC Sinzig (SP4T), Pixum Team Adrenalin Motorsport (V5), Scuderia Cameron Glickenhaus (SP-X), Prosport-Performance (SP7) as well as of Avia Racing (SP3).