One season, nine races, eight heroes, 100 percent action. True stories, real heroic saga. That is THE HELL. The new spectacular documentary series of nürburgring.tv allows a look behind the scenes of the VLN endurance championship.
"We have all the necessary ingredients that you need: extremely interesting drivers, stunning motorsport and a fantastic race track, the latter alone can already tell incredible stories. To combine all of those in a series format is the next big thing for us, in addition to the livestream which we present and produce for the VLN", says Michel Pathe, nürburgring.tv Managing Director.
The main actors David Pittard, Maik Rönnefarth, Janine Hill, John Shoffner, Tim Schrick, Lucian Gavris, Benjamin Leuchter and Andreas Gülden were followed up close on their speedy travel at and around the Nordschleife. An octet with different backgrounds and careers. It is specifically this variety that makes the project so special. There are exclusive insights into all the areas on and beside the most legendary circuit of the world. "A basic requirement for us in selecting the characters was that either the driver or the team contests the complete VLN season. We wish to present all aspects of the series", says Pathe.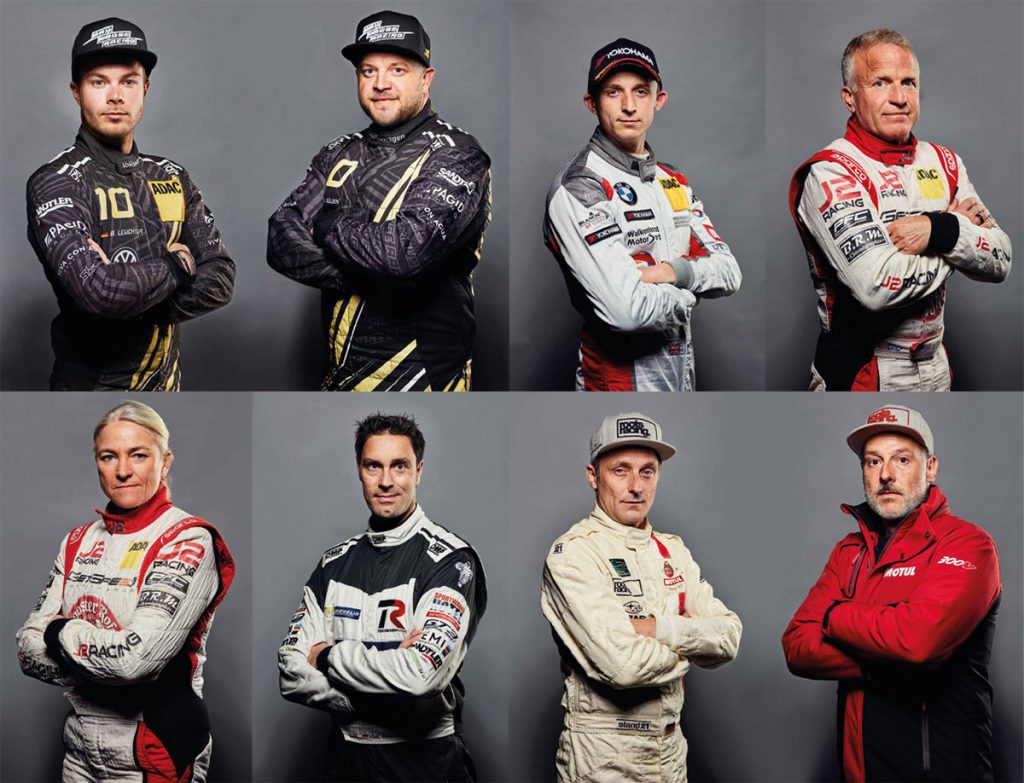 He explains furthermore why it was specifically these respective drivers who were selected: "Maik is the prototype of the VLN driver of the earlier days. He is a self-employed craftsman. He leaves his work literally last minute on the Friday, takes a seat in the race car and drives off. Our chief instructor Andy Gülden is an entertainer at his best. His partner Benny Leuchter is a successful driver now also on international level in the WTCR. It is impressive to see how Janine Hill and John Shofner, who are no longer that young, try to move forward in the GT3 class. They both are extremely interesting characters.
Others would need two or three lives to accomplish everything that they have already done in their respective lives. David Pittard is a young GT3 driver who is fighting for overall wins. He is a rising star who wants and has to establish himself within the next one, two years. With these three, the series is also marked by an international character. If someone has racing at the Nürburgring in his blood, then it is Tim Schrick. And Lucian Gavris is simply a cool guy. Those are the mechanics."
"The efforts involved in the projects are tremendous", says Pathe. Amongst others, a camera team for example visited David Pittard at his home in the UK and nürburgring.tv was also present at the pre-season tests of Hill and Shofner in Portugal, just as at Benny Leuchter's first participation in the WTCR in Marrakesch. "Each of the protagonists was equipped with audio cables throughout the entire day of each VLN race and an onboard cameras were fitted into each car. There was a dedicated camera man for each team. We had many different sources of footage and could thus capture the stories around a VLN race from all points of view", adds Pathe.
The plan for this year is to produce three to four pilot episodes. The first part over one hour includes the presentation of the characters, the VLN, the Nordschleife and of the first two rounds. The further sequels shall be 30 to 45 minutes long. Negotiations with TV broadcasters to this effect are currently underway. For the future, the episodes shall be available over video-on-demand. More information in relation to the series are published on: www.thehell.tv