A title holder near to tears and a great deal of adrenalin at the top. With 19.48 points now, the Austrian David Griessner and Yannick Fürbrich went into the lead of the popular grassroots series after VLN round 2. The Team Pixum Adrenalin Motorsport duo took the victory in class Cup5 for the second time with their BMW M235i. Michael Schrey in contrast experienced another disastrous day.
After he ran out of fuel just before the finish of VLN race 1, the pole setter in the BMW Racing Cup had to park his car at the 43rdDMV 4 Hour Race already in lap eight due to electronical problems. However, no one should write off yet the VLN Champion of the last two years. Schrey began the last season also with two zero scores before the then took seven class wins in a row. Fübrich/ Griessner should keep a close eye on him.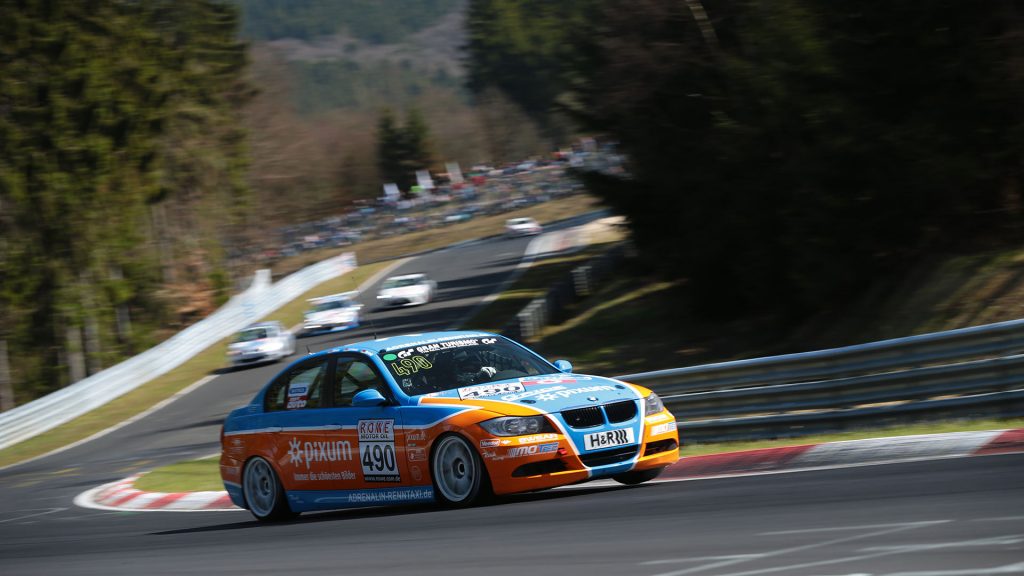 The feelings of happiness in the team from Heusenstamm/ Germany, though, were not only caused by the day victory of Fübrich/Griessner in the BMW M235i Racing Cup. Adrenalin managed to complete a triple. The team of Matthias Unger also dominated the two production car classes V4 and V5. "We have always been dreaming of winning all of these three highly-frequented classes one day in a VLN race. We have been very close many times throughout the last years and now we really made it. I have no words to express how spectacular this is, and I wish to emphasise the fantastic performance of the whole team", said Team Principle Unger happily.
Danny Brink, Philipp Leisen and Christopher Rink, having finished second in class V4 at the opening round with their BMW 325i e90 behind Carsten Knechtges and Marcel Manheller, now turned the tables at VLN race 2. With an advance of 49.648 seconds, the Adrenalin trio celebrated their first win in the new season. As their class figured 20 cars this time, three more than in the first VLN race, the second position achieved by Manheller/ Knechtges was sufficient for them to move up in second championship position. They are shown with 18.96 points in the table, followed by Brink/ Rink/ Leisen with 18.87 points. "We had a lot of yellow flag sectors on the track and not as much luck as the others. A second place in such a strong class is nevertheless great. We wish to fight this year for a top championship position and we are on a good way with this result", said Team Principle Manheller.
In fourth championship position are Christian Konnerth, Norbert Fischer and Daniel Zils with 18.73 points. The VLN vice-champions won their class V5 with the Porsche Cayman. Across the seasons, this was already the sixth victory in the row for the driver duo.