Rudi Adams is a legend in the Nürburgring endurance championship. The 56-years old can look back onto 27 class wins in this popular grassroots series. For the 2018 season, he will return to the most powerful class SP9. Together with Henry Walkenhorst and Andreas Ziegler, he will drive a BMW M6 GT3 for Walkenhorst Motorsport. VLN.de has conducted an interview with him about his beginnings in motorsport and his targets for the future.
What made you take the decision to compete in the M6 GT3?
As you know, I have been competing in the VLN since more than 20 years. In my older age now, I have the pleasure that a sponsor wants to support me this year. After a long search, we finally ended up with Henry Walkenhorst two, three weeks ago. I called him to ask how it looked like? I have the amount X. And he replied right away, ok, then you will drive the M6 GT3 in my team.
How do you consider your chances in 2018?
The GT3 class has now been subdivided into three different categories. We are all Bronze drivers and will participate in the Master class. It is always my target to win our class. I am not keen on driving for the wooden spoon. If I enter the cockpit of a race car, then I also want to win.
You change from a BMW M235i, a Cup car, into a GT3 car. Will this be hard for you?
Well, I had already competed in a GT3 for four years. One year with a BMW Z4 and the other years with a McLaren. So I know what it is about. The technology has advanced of course. I assume that it will be different to drive the M6. The McLaren was really stubborn. You always got to be alert for something to happen, such as the rear breaking away. It was a car which was difficult to drive. I would assume that the handling of the M6 is easier. Nevertheless, I will have to get the right feeling first. For me, the season will not start before the 24h Race.
Have you had the opportunity yet to test the M6 GT3?
I would have had the possibility to test the car at Paul Ricard this week but it was unfortunately not possible for professional purposes. I will step in next week and we will get to the point right away.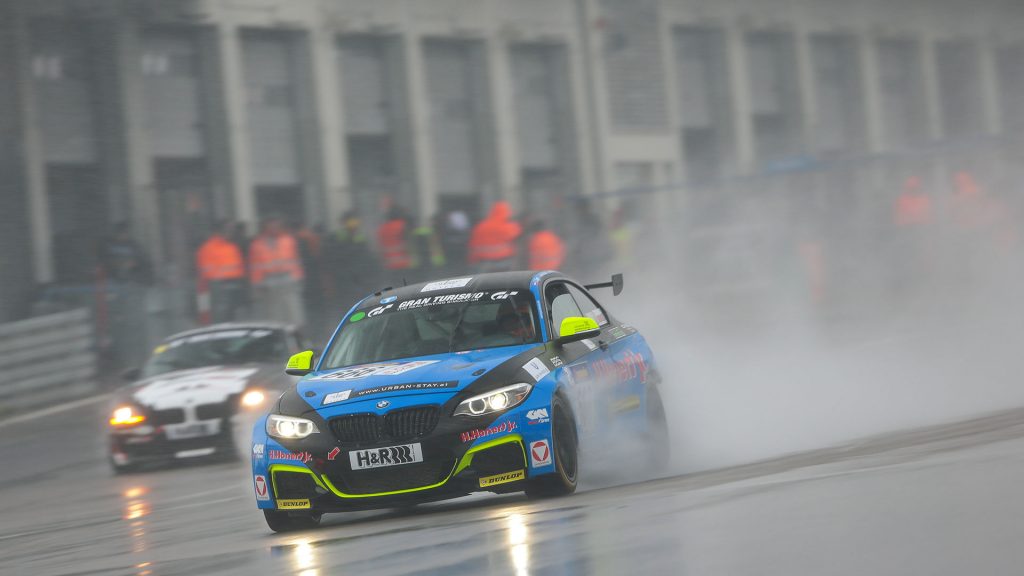 Your nickname is 'Mister Rain'. How did this come about?
Driving at the Nordschleife in the rain, this is where the men are separated from the boys. This is when you see who knows the track and who dominates the car. In dry conditions, the field is in a close formation. When it is wet, you can identify the talents. As you know, I am working for Pirelli and I am testing a lot. As soon as it starts to get wet, I will be there at the Nordschleife, this is my favourite. It is always like riding on the edge of a razor blade. I would nevertheless prefer a dry track for my first race with the M6. I would like to make myself familiar with the car.
You are working for Pirelli as a tyre engineer. How does this help for your races?
I know how a tyre should work. I am pretty good in the set-up of a car. I have a knack for the adjustment of the suspension and other issues. As a tyre engineer, I am always there from the very first minute, beginning with the prototype up to the final product.
You did not come to the Nordschleife for racing until you were 34 years old. What did you do before?
I have been competing in races since I was 14 years old. I started with Motocross and did this for 16 years. Then I took a short break in motorsport. I worked at the Nürburgring Driver Safety Training Center for two years. It was due to my boss at that time that I changed from two wheels to four wheels. A little late, unfortunately. On the other hand, I wouldn't like to miss anything. In Motocross, I was always on my own. Here now, you have to set up the car and cooperate within a team. Everything must go hand in hand and that is really amazing.
Is the Nordschleife the ultimate?
I have never been competing at any track other than the Nordschleife. There is no better track, no track which would be more demanding for the drivers and which would provide more challenges. I would, however, have liked to also race at the circuits of Spa and Bathurst.
As a privateer in the VLN, you have to compete quite often with professionals. Are you ambitious to beat any of those?
Yes, of course. They are completing twice as much kilometres than we do. If I am then able to annoy one of those, this is of course fun and makes me proud.
You are now 59 years old. Is this rather an advantage or a disadvantage? How long do you think you will still be competing in races?
The experience which you have gained over the years is quite a decisive factor at the Nordschleife. And sometimes you have to wait two or three corners to be sure that you can overtake another car. As long as the lap times are ok, I would like to continue racing.